World's Top 2% Scientists
Sono 5 i ricercatori dell'Istituto di Scienze e Tecnologie per l'Energia e la Mobilità Sostenibili (STEMS) del CNR inseriti tra i "World's Top 2% Scientists": Osvalda Senneca, Valeria Di Sarli, Riccardo Chirone (Direttore CNR-STEMS), Carmen Branca e Adrian Irimescu. La "World's Top 2% Scientists' List", recentemente aggiornata, è la classifica mondiale, stilata dall'Università di Stanford, degli scienziati con livello più elevato di produttività scientifica (il 2% dei migliori al mondo). La classifica è il risultato di uno studio, apparso sulla rivista Plos Biology, che ha consentito di selezionare, in relazione all'ultimo aggiornamento, 194.983 nominativi tra più di 8 milioni di ricercatori di università e centri di ricerca di tutto il mondo, secondo una metrica che ha considerato il numero di pubblicazioni e di citazioni nelle relative aree disciplinari. Sono state esaminate, in particolare, 22 aree scientifiche e 174 sottocategorie, dall'astrofisica alla zoologia. I dati elaborati sono stati estratti da Scopus, il database di Elsevier.
Link 1
Link 2
ECN9
ECN9 - Naples Italy on Sept 8th-9th – 2023
ECN9 Topical areas: Based upon feedback collected at ECN8 and in months following, 5 different topical areas for ECN9 have been selected: • Hydrogen injection • Intake-injection Spray G and Spray M • OME and methanol diesel combustion • Ammonia injection and combustion • Battery safety and thermal runaway Previous "gasoline" and "diesel" topics into areas of physical interest have been consolidated and new topics started in hydrogen and battery safety. ECN participants are in the process to select specific injectors and target boundary conditions to feature at ECN9. Please, confirm if new experimental or CFD research using ECN injectors in these areas are expected, and if people are interested in participating in the scientific committees under these topics. In addition to hydrogen, research using renewable/sustainable liquid fuels are expected. Applications within engines at aviation combustion conditions, falling into these topics, are guessed. Looking forward to seeing you at 9 ECN 2023! Please, for info refer to: Alessandro Montanaro – alessandro.montanaro@stems.cnr.it tel. mobile +39 3389558678 tel. office +39 0817177223
ECN9 Info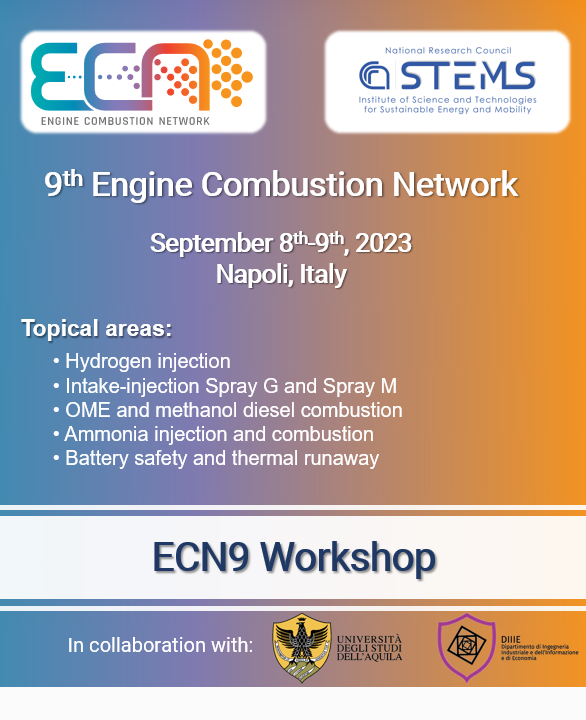 ICE2023
16th International Conference on Engines & Vehicles for Sustainable Transport
The 16th edition of our biannual conference, will take place in the island of Capri (Italy) from September 10th to September 14th, 2023. ICE CONFERENCE was created almost 30 years ago, with the aim to encourage the exchange of scientific and practical knowledge in the main theme of the vehicle and it has always been imagined as a forum to promote the cooperation between industry, research laboratories and universities. This year ICE2023 will be organized by SAENA (Italian SAE section) in cooperation with CAR-OSU (Center for Automotive Research of the Ohio State University) and with STEMS (Institute of Science and Technology in Energy and Sustainable Mobility - Naples,Italy).
Link dell'Evento
First Call for Paper